Jeg fant denne listen hos Karoline, som fant den hos Overtenking. Det er alltid gøy å svare på spørsmål, så lenge det ikke er skjemaer som må signeres i tre eksemplar, sendes inn, sendes tilbake, bli betvilt, mistet, funnet, lagt ut til offentlig høring, mistet igjen og til slutt begravd i myk torv i tre måneder og resirkulert som opptenningsmateriale.
I found this list at Karoline's, who found it at Overtenking. It's always fun to answer questions, as long as it's not for forms that have to be signed in triplicate, sent in, sent back, queried, lost, found, subjected to public inquiry, lost again, and finally buried in soft peat for three months and recycled as firelighters.
1. Hva var det siste du skriblet ned på et papir?
Invitasjoner til tre av naboene, som kjente mormor mens hun bodde her.
What was the last thing you scribbled down on a piece of paper?
Invitations to three of my neighbours who knew my grandmother when she lived here.
2. Hva har du alltid i vesken?
Masse rart! Faktisk så mange nødvendige småting at jeg har en liten, gjennomsiktig veske oppi veska, slik at jeg lett kan flytte alle tingene fra en veske til en annen.
What do you always carry in your bag?
Lots of weird stuff! So much stuff I have a small transparent bag in my bag so that I can easily transfer everything from one bag to another.
3. Hva bestiller du på kafé?
Kommer an på om jeg har lyst på noe varmt eller kaldt å drikke, eller noe søtt eller salt å spise.
What do you order at the café?
Depends on whether I want something hot or cold to drink, or something sweet or savoury to eat.
4. Hvilke nettsider besøker du daglig?
Which websites do you visit daily?
Facebook, Gaysir, Dagbladet/NRK/Aftenposten (online newspapers), Feedly (blog updates), Instagram.
5. Hvem ringer du til når du er sint/lei deg?
Det kommer litt an på årsaken til at jeg er sint/lei meg, så det varierer litt hvem jeg kontakter hvis jeg føler jeg har behov for å tømme meg for litt følelser.
Who do you call when you are angry/sad?
It depends on the cause of why I'm angry/sad, so it varies who I contact if I feel the need to spill some emotions.
6. Hvilken farge er det på tannbørsten din?
Jeg har to, haha. En fiolett og hvit for reise, og en elektrisk i hvit og blå.
Which colour is your toothbrush?
I have two, haha. One purple and white for travels, and an electrical toothbrush in white and blue.
7. Kan du bytte olje på bilen?
Teoretisk, ja. Jeg så en episode om det på Steg for steg.
Can you change oil on the car?
Theoretically, yes. I saw an episode about that on Step by Step.
8. Hva har du hatt av kjæledyr?
En katt, en hund, to kaniner, noen hamstere.
What kind of pet have you had?
A cat, a dog, two rabbits, a few hamsters.
9. Har du noen piercinger?
Bare et hull i hvert øre.
Do you have any piercings?
Only one in each ear.
10. Norge på sitt beste?
Leiligheten min! Neida. Joda. Naturen. Sosialdemokratiet.
Best of Norway?
My apartment! Nope. Yeah. The nature. The Social Democratic system.
11. Hva gjør deg lei deg?
De politiske endringene i Øst-Europa som fratar kvinner og homofile deres menneskerettigheter. Det føkket opp udemokratiske valgsystemet i USA. Fargede som blir skutt og drept av politi for ingenting. Muslimer som blir behandlet som terrorister av folk med null kunnskaper og mye fordom. Dyr som blir mishandlet.
What makes you sad?
The political changes in Eastern Europe that deprive women and lgtb+ of their human rights. The fudged up undemocratic election system in the USA. People of colour being shot and killed by the police for no reason. Muslims being treated as terrorists by people with no knowledge and a lot of prejudice. Animals that are mistreated.
12. Hva gjør deg glad?
Dansen. Sjokolade. At jeg lever i Norge og har alt jeg trenger og mer til.
What makes you happy?
Dancing. Chocolate. Living in Norway and having everything I need and then some.
13. Hva er drømmejobben din?
Danse Etcetera i Cats! Skulle også veldig gjerne spilt Hitler i den svarte komedien Mein Kampf av George Tabori. Og ellers driver jeg allerede med en drømmejobb: lese bøker!
What is your dream job?
Dance the part of Etcetera in Cats! I would also very much like to play the part of Hitler in the black comedy Mein Kampf by George Tabori. And otherwise I already have a dream job: reading books!
14. Abonnerer du på et ukeblad?
På en måte, jeg er medlem i Human-etisk forbund, så jeg får medlemsbladet Fri tanke i posten fire ganger i året. Og hvis jeg skulle tegnet abonnement på et eller annet tidsskrift, ville jeg gått for Illustrert Vitenskap.
Do you subscribe to a magazine?
Kind of, I am a member of the Humanist Association, so I do get their member magazine four times a year. If I were to subscribe to a magazine, I would probably sign up for Science Illustrated.
15. Hva var det siste du kjøpte?
Sjampo mot tørr hodebunn.
What was the last thing you bought?
Shampoo for dry scalps.
16. Liker du kinesisk mat?
Kan ikke si jeg er så veldig begeistret for kinesisk mat, jeg synes ofte det smaker for søtt.
Do you like Chinese food?
I can't say I'm very fond of Chinese food, I often think it tastes too sweet.
17. Når var du i kirken sist?
9. september, men ikke for å gå i gudstjeneste (jeg er en fordømt hedning, vet dere), men fordi døveforeningen holder til i døvekirken og det var en forelesning der om Clinton og Trump.
When was the last time you visited the church?
9th of September, not to attend any services (I'm a damned heathen, you know), but because Oslo Døveforening (Oslo Deaf Society?) is located in the Deaf Church. There was a lecture about the presidential election, Hillary «Madame Nasty Lady» Clinton, and Donald «Stupid Spoiled Sleazeball» Trump.
18. Hva er det mest spesielle noen har gjort for deg?
Gitt meg liv, antar jeg.
What is the most special thing someone has done for you?
Given me life, I guess.
19. Har du noensinne vært i en ambulanse?
Ja, da jeg var 3½ år gammel og fikk hjernehinnebetennelse.
Have you ever been in an ambulance?
Yes, when I was 3½ years old and had menigitis.
20. Kan du rulle med tungen?
Ja, lett som en plett.
Can you roll your tongue?
Easy-peasy-lemon-squeezy.
21. Hvor lang tid bruker du om morgenen?
På hva da? Å våkne eller gjøre meg klar til å møte verden? Henholdsvis fire timer og femten minutter.
How much time do you spend in the mornings?
What, exactly? Waking up or getting ready to face the world? Respectively four hours and fifteen minutes.
22. Banner du ofte?
Bare inni meg.
Do you swear frequently?
Only on the inside.
23. Hva er det lengste du har campet i et telt?
Sikkert noen netter, men det har jeg tydeligvis fortrengt.
What is the longest you have been camping in a tent?
Probably a few nights, but it seems I have repressed those memories.
24. Hvor mange søsken har du?
En lillebror.
How many siblings do you have?
One younger brother.
25. Hva slags utdannelse har du?
Tre års danseutdannelse, to år fotografi, ett år PPU.
What kind of education do you have?
Three years of dance, two years photography, and one-year practical pedagogy.
26. Hvor mange steder har du bodd?
Jeg har bodd fire steder, men hvis vi skal telle med hver bolig jeg har bodd i, kommer vi opp i 14.
How many places have you lived?
I have lived in four different places, but if we count each residence I have lived in for one month or more, the number is 14.
27. Hvilken kroppsdel er du mest fornøyd med?
Jeg er egentlig fornøyd med hele kroppen.
Which part of your body are you most satisfied with?
I'm satisfied with the whole body.
28. Hvilken kroppsdel er du minst fornøyd med?
I dette øyeblikket er det huden på høyre underkjeve og på høyre side av bakhodet, fordi disse områdene er supertørre og KLØR.
Which part of your body are you least satisfied with?
At this moment, it is two patches of skin, on my lower jaw and back of head, because those areas is super dry and ITCH.
29. Er det viktig å feire bursdager?
Jeg synes ikke det er viktig å feire min bursdag, jeg foretrekker å la dagen forbigå i stillhet. Men jeg deltar gjerne i andres bursdager, så lenge det vanker kake.
Is it important to celebrate birthdays?
I don't think it is important to celebrate my birthday, I prefer to let the day quietly pass by. But I don't mind attending other people's birthday celebration, as long as I can have cake.
30. Har du tatt vare på klesplagg fra da du var liten?
Bare en morgenkåpe/kimono i tjukk silke som jeg fikk i gave fra tante Ami da jeg var 14.
Have you saved clothes from your childhood?
Only a robe/kimono in thick silk that I received as a gift from Aunt Ami when I was 14.
31. Nevn én ting som er irriterende med å blogge?
Å skrive. Jeg får ideer eller inspirasjon, men klarer ikke alltid få skrevet det jeg tenker på ut av hodet.
Mention one thing that is annoying with blogging.
Writing. I get ideas or inspiration, but I don't always succeed in putting my thoughts into writing.
32. Hvor mange glass vann drikker du hver dag?
Ikke mange nok.
How many glasses of water do you drink every day?
Not many enough.
33. Når legger du deg om kvelden?
Ideelt rundt klokka 23. Realistisk rundt klokka 1–2. B-menneske, FTW.
When do you go to bed at night?
Ideally around 11 pm. Realistically around 1–2am. Night owl, FTW.
34. Favorittfag på skolen?
Gym og alle dansefagene.
Favourite subject at school?
Physical education and all dance classes.
35. Potetgull eller smågodt?
Kommer an på. Nå for tiden er jeg mest fysen på salt snacks.
Chips or candy?
Depends. Nowadays I'm mostly craving savoury snacks.
36. Siste filmen du så?
Mascots, en ganske morsom mockumentary på Netflix.
The last movie you watched?
Mascots, a quite funny mockumentary on Netflix.
37. Det mest romantiske du har gjort?
Tok jenta jeg datet med på indisk restaurant, og deretter overrasket henne med en natt på et hyggelig hotell, hjemmelaget sjokoladetrukket marsipan og kinobilletter neste dag.
The most romantic thing you have done?
Took the girl I dated to an Indian restaurant, then surprised her with a night at a nice hotel, homemade chocolate-covered marzipan, and tickets to a movie the next day.
38. Den perfekte vertinnegaven er?
Blomster?
The perfect hostess gift is?
Flowers?
39. Hvor gammel er pappaen din?
59.
How old is your father?
59.
40. Har du vært i avisen?
Ja, ved noen anledninger.
Have you been in the newspaper?
Yes, on a few occasions.
41. Et sitat du liker?
«Don't dream it. Be it.»
Your favourite quote?
«Don't dream it. Be it.
42. Hvilken farge liker du best på neglene?
Ingenting. Jeg bruker sjelden neglelakk, for jeg synes det får fingrene mine til å se korte ut. Og jeg får eksem av neglelakk.
What color do you like best on your fingernails?
Nothing. I rarely wear nail polish because I think it makes my fingers seem shorter. Plus, nail polish gives me hives.
43. Hvem er forbildet ditt?
Jeg ser opp til forskjellige personer, noen fordi de gjør en stor innsats for andre/dyr/miljøet/verden, noen fordi de er modige, talentfulle, intelligente eller snille.
Who is your role model?
I look up to different people, some because they make a huge effort for others/animals/the environment/the world, some because they are brave, talented, intelligent or kind.
44. Er du forfengelig?
Hvis det er forfengelig å se meg selv i speilet og tenke «Damn, I'm hot», så ja.
Are you vain?
If being vain means looking at myself in the mirror and thinking «Damn, I'm hot», then yes.
45. Finnes det noe du virkelig har lyst til å gjøre, men ikke har hatt mulighet, tid eller råd til?
Reise til varmere strøk der jeg kan gå i kritthvit sand og bade i turkis hav, eller til det stedet der jeg kan spise frokost i selskap med giraffer. Rafte gjennom Grand Canyon. Roadtrip gjennom Japan fra nord til sør.
Is there something you really want to do, but haven't had the opportunity, time, or money?
Travelling to warmer climes where I can walk on white sand and swim in turquoise water, or to that place where I can enjoy my breakfast in company with giraffes. Go rafting through Grand Canyon. Roadtrip through Japan from north to south.
46. Har du vært gift eller forlovet?
Aldri, og har heller ikke lyst til det. Men jeg har lekt brud et par ganger.
Have you been married or engaged?
Never, and nor do I want to. But I have been playing bride a couple of times.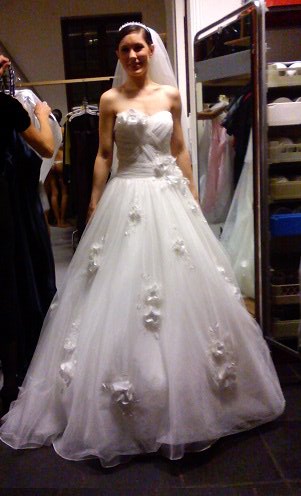 47. Hva kjøper du helst: klær, vesker eller sko?
Bøker. Alltid bøker.
What do you prefer to shop: clothing, bags, or shoes?
Books. Always books.
48. Føler du deg ung eller gammel for alderen?
Yngre. Noen ganger føler jeg meg fortsatt som da jeg var 20 år, andre ganger som en 4-åring.
Do you feel younger or older than your age?
Younger. Sometimes I still feel like I did when I was 20 years old, other times like a 4-year-old.
49. Hvilke uvaner har du?
Jeg piller på huden rundt neglene. Jepp, fortsatt ikke klart å slutte.
What bad habits do you have?
I peel the skin around my fingernails. Yep, still haven't managed to quit.
50.Hva skal du gjøre når du er ferdig med å svare på alle spørsmålene?
Gi meg selv en klapp på skulderen og legge meg.
What are you planning to do when finished answering all the questions?
Give myself a pat on the back and go to bed.