Click here for the English version.
En kjapp oppsummering av desember:
Var på Ål FHS igjen og underviste i moderne og hip-hop og boltret meg i svømmebassenget.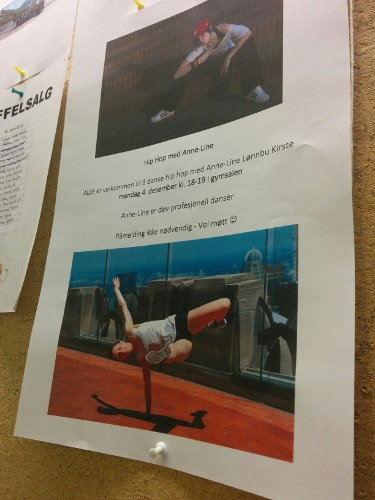 Mye kattekos i senga og på sofaen. Sita har endelig skjønt sitt ansvar som levende vekkerklokke og vekker meg om morgenen med parkourøvelser.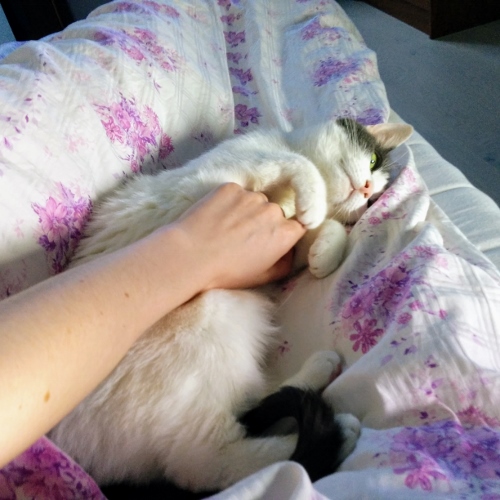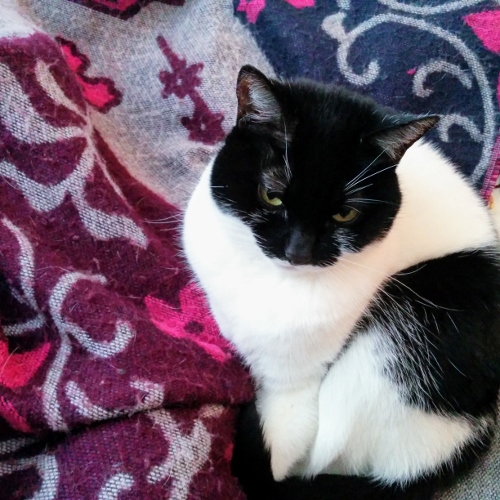 Tok influensavaksinen fordi medisinen mot stoffskiftsykdommen har den artige bivirkningen at man kan få «benmargsdepresjon», eller nedsatt immunforsvar. Ble også kvitt et par føflekker.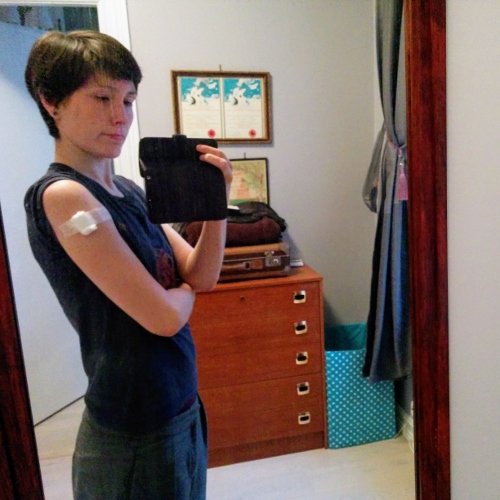 Prosjekt Færre Bøker kom i gang for alvor de siste to ukene av desember. Filmsamlingen ble også drastisk redusert da jeg fant ut at Google Play har en god del av filmene jeg eier, så da var det bare å hive ut gi bort haugen av DVD-er. Mitt mål for 2018 er å redusere antallet bøker i bildet under: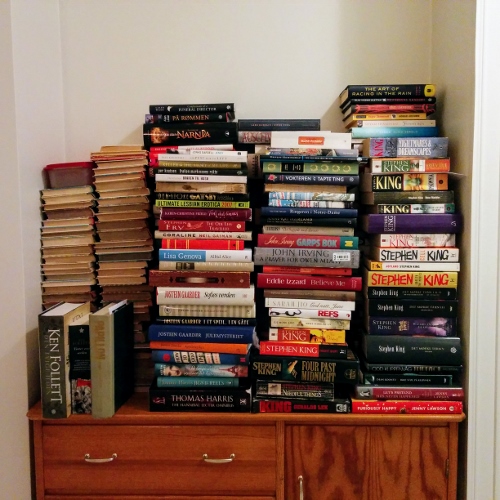 Nådde endelig målet mitt om å strekke ørene mine til 10 mm. Tok meg bare et år-ish å komme i mål.
---
*
A quick summary of December:
I went to Ål Folk High School again to teach contemporary dance and hip-hop, and to bask in the swimming pool.
A lot of cat cuddling on the bed and the couch. Sita has finally understood her responsibility as a living alarm and wakes me in the morning doing parkour exercises.
I got the flu shot because the medicine for hyperthyroidism has the funny side-effect of «bone marrow depression», or suppressed immunity. I also got rid of a couple of moles.
Project Fewer Books got serious for the last two weeks of December. My movie collection was also drastically reduced when I learned that Google Play has several of the movies I own, so I got rid of gave them away.
I reached my goal of stretching my earlobes to 00g. It took me only one year-ish to achieve.